OUR SOC SERVICES
Quick on-boarding
24/7 security event monitoring and alerting
Out-of-the-box support for 350+ log sources
Large library of threat detection use cases
Business context modeling, creating custom rules and use cases to identify critical security alerts relevant to your organization
Compliant with standards like PCI, HIPAA, SOX, GLBA, FFIEC, NERC CIP and FISMA
Access to an easy-to-use web portal, containing powerful reporting, dashboards, and drill-down analytics
Meets the requirements of Circular 31/2017 / TT-BTTT, Decree 85/2016 / ND-CP, Directive 14 / CT-TTg 2019 of the Prime Minister.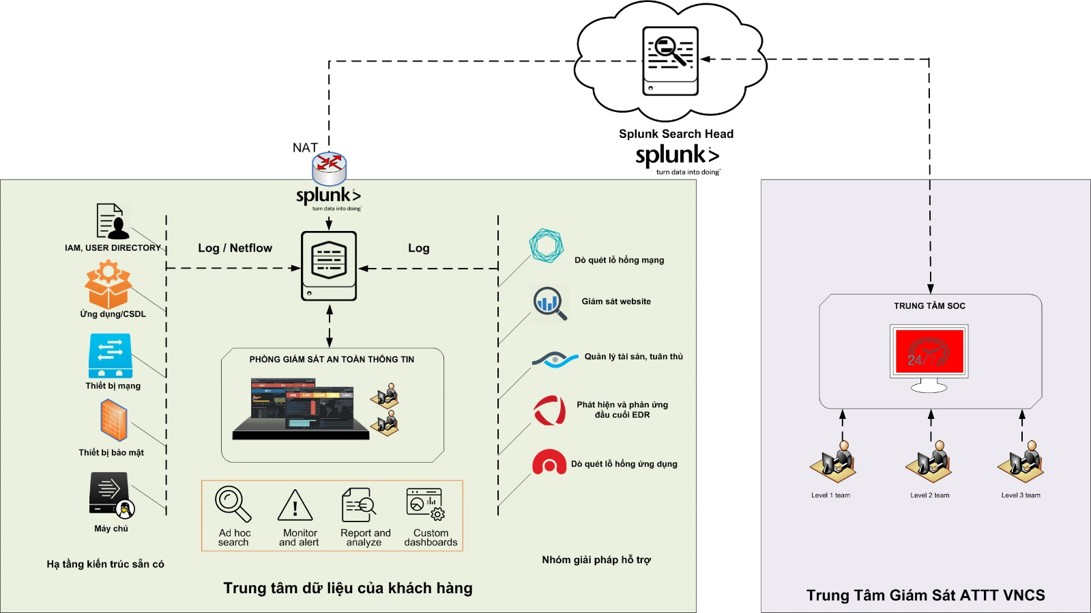 DATA SOURCES
Installing Agent (Forwarder) on important servers and service servers such as DNS, AD, Web, Mail, E-portal, Public services …
Collect log from network devices and security devices: Routers, Switches, Firewall, IPS, Endpoint protection, …
Collect Netflow from Core Switch (SPAN Port).
Vulnerability information through periodic vulnerability scanning.